Meet the Team
Barnoon Workshops are run by freelance tutors who are professionals in their own field and experienced workshop leaders. If you have an idea to run a workshop, get in touch!

ZOE EATON
Zoe is an artist, and arts and crafts tutor. Having studied painting at Northampton University, she has exhibited widely throughout the UK, . Zoe's teaching experience includes freelance arts workshops and 7 years as an Arts Coordinator in adult education in Milton Keyes, before moving to St Ives to set up an arts cafe 'Cafe Art' with her husband Pete Giles. They now concentrate on managing Barnoon Workshop.
http://www.saatchiart.com/Zeaton
TREE STEWART
Tree Stewart is a professional performer, workshop leader, artist and musician. She studied fine art and sculpture at Edinburgh College of Art before training in circus and performance with te POOKa, CircusManiacs, Ira Seidenstein and NECCA. Tree has taught workshops, run community projects, and performed across Britain, including working for Event Cornwall, Reel-time Events, Street of Brighton, BBC International, Visit Scotland and Glastonbury Festival. As well as teaching at Barnoon Workshop Tree runs Sky High Arts, an aerial dance school, is a director of Friends of the Guildhall, and plays keyboards and flute in progressive rock trio The Emerald Dawn.
https://www.facebook.com/TheEmeraldDawn
PETE GILES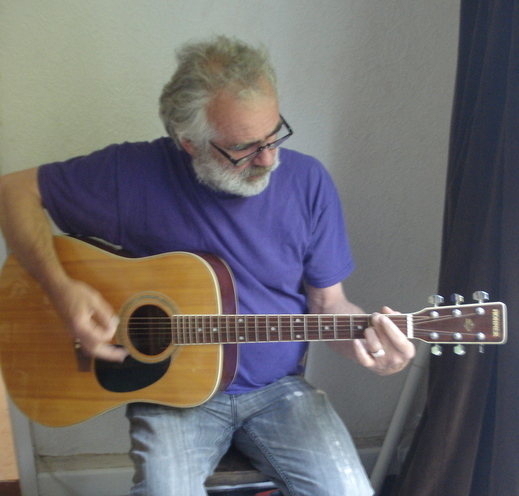 Pete Giles is an artist and musician, who lives in St Ives. As a musician Pete has played in many bands including bass and guitar with The New Mutants, and The Blues Collective. Currently Pete works under the name of Bobby Wotnot, producing both abstract art and electronic music. He has taught guitar and art in adult education for 14 years, before moving to St Ives.
http://www.saatchiart.com/bobbywotnot
http://www.bobbywotnot.blogspot.co.uk/
http://www.reverbnation.com/bobbywotntot
ANGELA ROBERTS
Angela initially trained as a ceramicist at Loughborough University and worked as a demonstration potter. To add to her skills she trained and worked as a florist, winning awards and exhibiting at Chelsea Flower Show. She then went on to work in higher education as a librarian, whilst making a range of soft toys which she sold at craft fairs. Then she moved into the toy industry by opening and managing two toyshops, the first being a creative toy shop and the first winner of the 'Let Toys be Toys' award, the second an educational toy shop.
She now runs a toy and craft shop'RAAR Emporium' in the Drill Hall, St. Ives where she uses her vintage sewing machine and encourages people of all ages to be creative. She has often worked with children and young people and wants to make art and crafts accessible for all.
http://www.raaremporium.com/
ERIN LACY
Erin is a print designer living in the heart of St Ives. Erin trained




at the London College of Fashion & graduated with a BA (Hons) Surface




Textile Degree.




Since leaving her urban roots she has never stopped to share her love




for print through different creative mediums. From running workshops,




freelancing & working from her print studio, Erin now produces prints




& products which are handmade in the UK. Pelican Prints home & gifts




can now be bought from a number of seaside stockists around the




Cornish coast. Her passion for wildlife & nature has always been




incorporated in her print designs. Before moving to Cornwall Erin




worked for a number of brand & fashion houses which gave her the




opportunity to make the leap in setting up her design print studio in




the South West. Erin now offers a number of design services from




commercial branding through to illustration. 


www.pickprettyprints.com



Barnoon Workshop, Clodgy View West, St Ives TR26 1JG
Find us on Facebook or Twitter