We run creative events all year, in a range of art and craft subjects. All our courses include materials, and are taught in a relaxed and informal style by creative professionals. You can view all of our events by date order in one page CALENDAR view
To book a Private party or large group bookings please visit Group Bookings page
HOW TO BOOK
TELEPHONE: Call The Cornish Riviera Box Office, 01726 879500
EMAIL: us at [email protected]
Text Message: 07900 095203
Outdoor Water Colour Painting
MONDAYS 14:00 - 16:00 / Adults £15, children £10
From July 6th, and every Monday
Spend a lovely couple of hours, painting outdoors in stunning St.Ives. Each session is a stand alone watercolour class, ideal for all ages and abilities - from complete beginners, to experienced artists who want some time and space to paint. With plenty of individual help and advice on hand with tutor Zoe Eaton. We will go outside and draw/ paint a scene near the workshop. Each session we explore a different view or theme, ranging from local street scenes, beach, botanics, shells and sealife. .
**Due to current the current situation we limit the class size to 6 people to allow for social distance., and in accordance with government guidelines. We will not run the class in very bad weather
What We Provide
Drawing board, paper and drawing equiptment
We can loan paint and brushes but feel free to bring your own to reduce the need for disinfection and cross contamination. - or we also sell a watercolour kit (with paint, brushes, palatte, paper, pipette and sponge)
What You Need To Bring
Dress for the weather - with appropriate sun or rain protetction
Comfortable footwwear
A camera phone is useful
facemask
How To Book
Booking is essential. Please message us to reserve your place, with contact details incase we have to cancel the event. You can make payment on the day of the class (card payments accepted).
OUTDOOR DRAWING EXPERIENCE!
Tues/ Wed/ Thur & Sat / 10.30 AM - 12.00 / (From 14 July )
£10 pp inc (Ask about prices for your own private group)
Get to see St.Ives in a different light! These fun and informal sessions are suitable for all ages and abilities, So whether you are a complete beginner to drawing who just wants to have a go - or an experienced artist who would like to join an outdoor group - or a mixed ability group or familly who would like to enjoy a creative experience together - these sessions are for you!
Tutor Pete Giles is on hand to offer help, tips and techniques on capturing what you see. We visit a different beautiful spot in St.Ives, within a short distance of the Workshop. Depending on the weather, this might be a local Seaview, Town scapes, pretty streets, Gardens or Park.
What We Provide
Use of a Drawing Board, paper, pen and paper included in price
Although we can supply drawing materials, please feel free to bring your own.
You can buy a drawing kit to keep for £10 ( includes a drawing pen, 4B pencil, eraser, sharpener, sketchbook and pack of coloured pencils, in a polyhandal carry case ).
What You Need To Provide
Dress for the weather, with sun or rain protenction and appropriate footwear/ gear for short walks
A photo camera is useful
Drinking water
Face mask
BOOKING REQUIRED: Please message us to reserve your place. Payment can be made on the on the day. Meet at Barnoon Workshop. In very bad weather, we may have to cancel. Please check our CALENDAR for dates and confirmation.
THURS 27 AUG 14:00 - 16:00
Collage, a French word for a technique to create an assemblage of different forms. Get Cutting, ripping, gluing and sticking and maybe add drawing and writing to make your complete images.
Take inspiration for your artwork from the local landscape, or maybe try something more surreal with a look at the use of 'Photomontage' used in Surrealism and Pop Art, and examples of contemporary collage used today. All materials included but if you want to bring your own images to make them more personal feel free.
Adults £15 & Children £10
Fun and informal monthly sessions, designed for all levels of ability, from complete beginners, to those who wish to develop and practice their style. Get to draw portraits or the clothed figure from a live model, with tutor Zoe Eaton.
We start with short warm up exercises, designed to explore a variety of drawing techniques, materials and surfaces, before finishing with a longer pose - with emphasis on developing your own style, whether it is expressionistic, realistic or more abstract or minimal.
This workshop is suitable for adults and children of all levels of ability. Adults £15, children £10 includes all materials.
PAINT A canvas - Beach. Sea. Sky
COST / Adults £25/ Children £15
DATES TBA (Wed 14.00 - 16.30)
Come along and Paint a beautiful seascape using acrylic paints on canvas - designed for all ages and abilities . Create your impression of the magnificent scenery overlooking Porthmeor Beach - capturing the fleeting light, colours and textures of the sea and sky. We work in the studio, but in good weather may work outside, so dress for the weather - or feel free to work from your own photos.
There is help at each step of the way, with painting techniques, colour mixing and more, with tutor Zoe Eaton.
To book please click on link above, or telephone the Cornish Rivieraq box Office 01726 879500 . CLICK HERE TO BOOK ONLINE
colour st ives with SUPER PENCIL TIPS
£15 pp / 2 Hour Workshop / Price includes a FREE soft cover version of the Book Colour St.ives -
TTue 1 Sept 14.00 - 16.00
Get the most out of the humble colour pencils - and learn more about the wonderful types of pencil now on the the market! Draw or colour pretty scenes - with the creators of The popular 'Colour St.Ives' Colouring Book, Zoe Eaton & Pete Giles.
Ideal for all ages and abilities, whether you are a complete beginner to drawing, or are a colouring book enthusiast, or maybe just want to learn some new coloured pencil techniquesl.
If weather permits we will go out and sketch or colour scenes that are featured in the book, and in bad weather we can work in the studio. - either from your own drawings, photos or colour sheets. Experiment with a range of pencil types - including standard pencils, Blendable Polycolour,, Paste, Inktensel and Water Colour pencils. Get expert tips & techniques to create textures and interest in your work, including 'dry' blending, wet blending, Stippling, Hatching, Scumbling, Layering, and more!
£15 - Aor adults and children aged 5 / Includes materials, paper, and a free colouring book. To book click on line or message CLICK HERE TO BOOK ONLINE or see details at top of page
Oil Painting for beginners
1 Day Workshop : COST £45 inc.
Learn how to use this beautiful and versatile medium with artist Zoe Eaton. Suitable for complete beginners, or experienced artists who want to develop the use of oil paints.
We start with guided exercises to explore the basic techniques and materials including different painting mediums, glazing techniques, impasto painting, brush work, how to prepare and use painting surfaces and more. Then move onto a painting project on canvas.
CLICK HERE TO BOOK ONLINE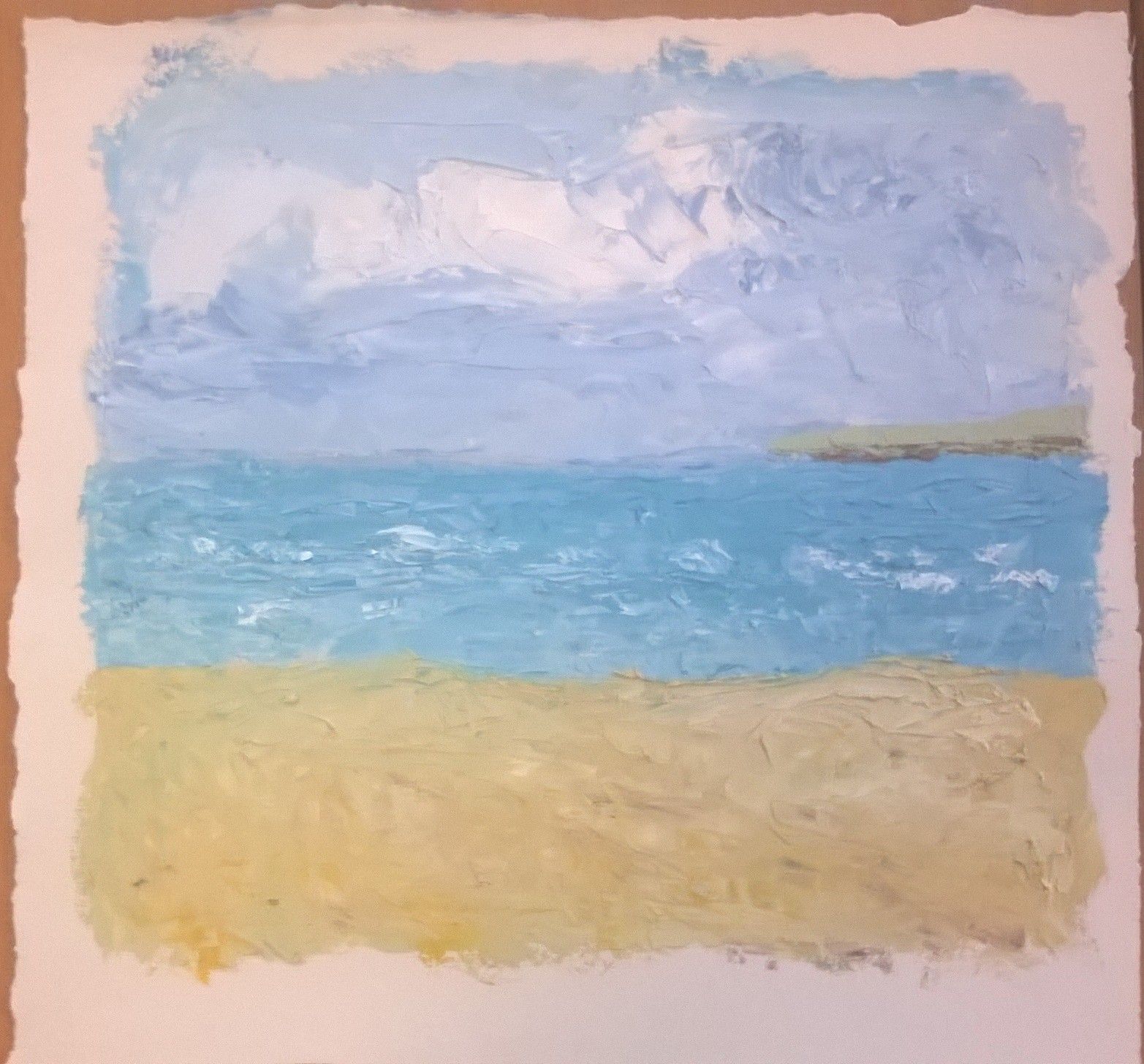 Beginners Guide To Calligraphy
DATES
THUR 17 Sept 14.00 - 16.30
THUR 24 Sept 14.00 - 16.30
Cost £20
Discover the beautiful art of hand lettering. Use to add interest to cards, letters, labels, sketchbooks or almost anything that needs text! uring this workshop with Zoe Eaton, get to learn the basics you will need to get started - taught through fun practice sheets and little projects. Build up skills in using tools and techniques, from hand movement, layout and spacing methods. Experiment with different types of pens, inks and paper surfaces.
Begin my mastering a classic italic font, and then get to try other, contemporary fonts, before creating a final composition or project. Leave with your experiments, handouts, notes and practice sheets in a sketch book.
One Day Workshop 11:00 16:00
Have you always wanted to play guitar, but don't know where to start? Or maybe you have a guitar lying about, but have since lapsed playing. This one day workshop really is an excellent way to kick-start your playing, and lay good foundations for future improvement.
With Tutor Pete Giles, who has over 25 years experience teaching adults to play. Pete has developed an easy system to get started, with emphasis on practical skills over theory, using popular tunes, and a combination of individual and group exercises. Taught in small groups, there is plenty of time for individual feedback. By the end of the day you should be able to:
Play 4 chords,
Understand how to read 'guitar tabs'.
Have an insight into the principles of tuning
Play a complete song all the way through!
If you need to borrow a guitar please ask. Tickets available from Cornish Riviera Box Office, or message us to reserve your place. Click Here To Book Online.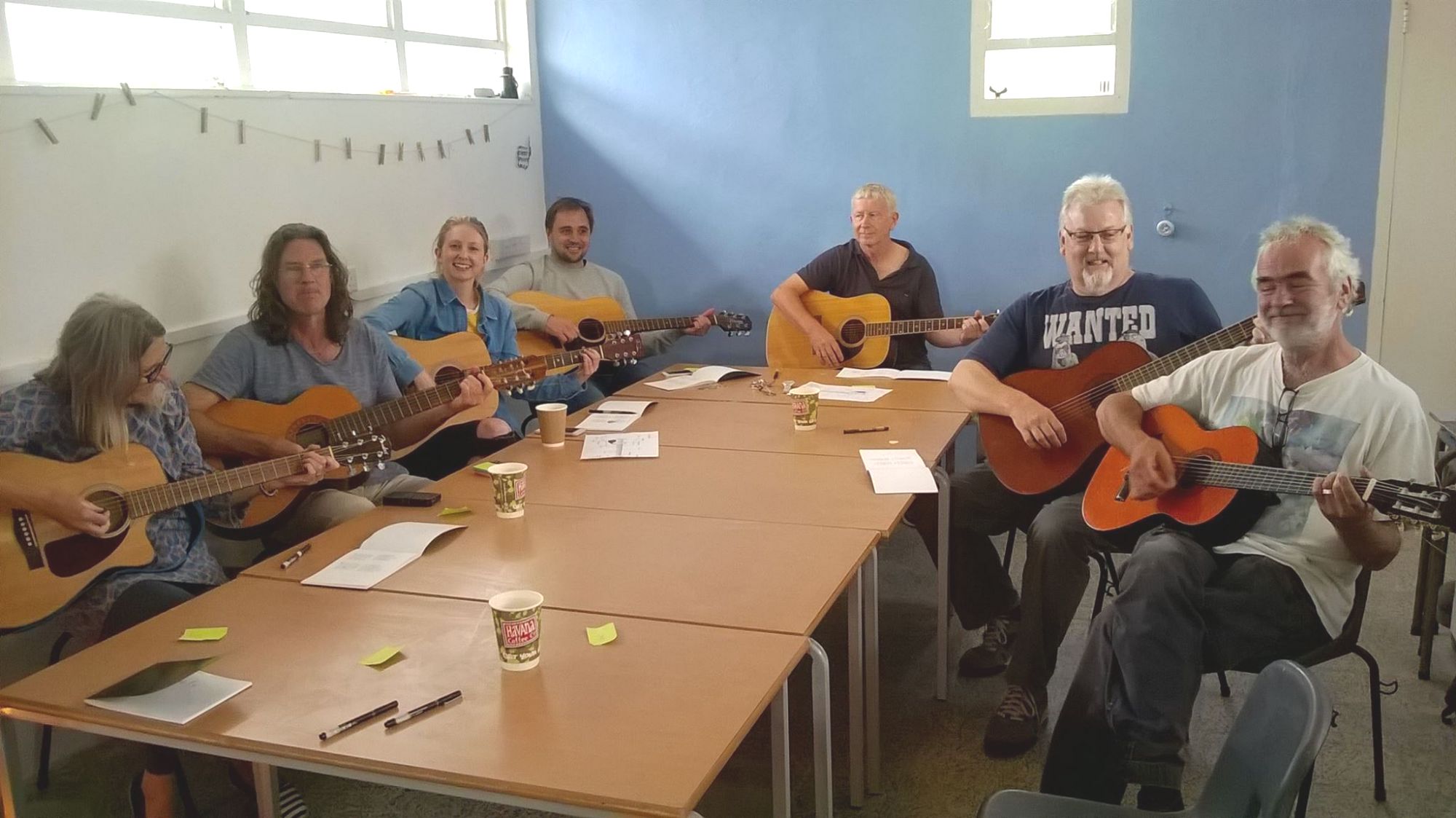 DATES:
TUES 25 AUG / 14.00 - 16.30
TUES 15 SEPT/ 14:00 - 16:30
COST : Adults £20, Children £10
Learn how to create a beautiful decoratived platter or box, using Decoupage, a technique that involves layering collaged papers with glues and varnish - these can be combined with paint effects and personalised to your choice of design. This technique is great to cover boxes, trays, picture frames, or give new lease of life to old items of furniture, and they make great gifts too!
During this workshops we will take you through the steps of choosing your design, cutting, and use of correct materials and tools. Included in the price is a square or round palmleaf plate to decorate, and all materials. However feel free to bring along your own small object, and any relevant images you want to use. Click Here To Book Online.
MAKING drawing INK & PENS
THUR 17 SEPT 10:00 - 12:00
THUR 24 SEPT 10:00 - 12:00
A 'Back To Basics' workshop where you learn the different stages of making ink and a pen to draw or write with.
INK: Learn the different stages and processes and what to add into you natural ink mixture. We will be able to make ink on the day and enough that you will be able to take away a small bottle of the ink we produce. The main ingredient will vary as we will be using a natural seasonal items.
We will also manufacture a couple of dipping pans from natural materials that we can use to write or draw with once our ink has cooled. We can try our pens and make modifications so we can see the different lines they produce. You will leave with a jar of natural ink and a couple of hand made dip pens.
All tickets £15 Click Here To Book Online.
The Style of Alfred Wallis
COST Adults £20, children £10.
TUES 1 SEPT 10:00 - 12:30
TUES 6 OCT 14:00 - 16:30
Learn a little about the fascinating life and working methods of Alfred Wallis, and take inspiration as a basis for your own artwork.
Alfred Wallis (1855 - 1942) was a naive artist who lived and worked in St.Ives. Take a little tour around town and walk in Alfred Walis footsteps taking in significant sights, make sketches or take photos. Back at the studio we will lead you into making your own painting, drawing on the styles, themes, techniques and colours of Alfred Wallis. This workshop is suitable for all ages and abilities, and complete novices!

CLICK HERE TO BOOK ONLINE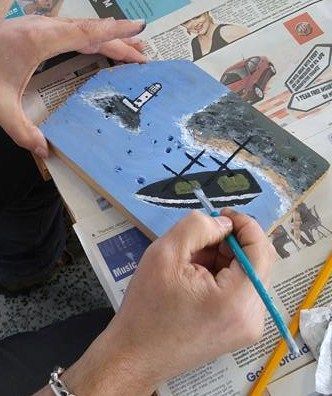 DATES / One Day Workshop/ 10.00 - 16.00
PRICE £60
Gain an introduction to the basics of stone carving techniques, but using breeze blocks instead of stone. These are soft and easy to carve, making it an ideal material for beginners to achieve quick results, and complete a sculpture in just a day.
Learn about the the traditional stages of stone sculpture with tutor Zoe Eaton with help at each stage of the process. We start by realising your design, and creating a small model or 'maquette, then 'roughing out' your sculpture before 'finishing' with chisles and rasps. You can paint your finished piece with masonary paint, or seal with PVA for display indoors, or outdoors.
No experience needed, and all materials are included. It is a physical process requiring some stamina. We will be working partly outside, so dress for the weather, and for your safety wear closed footwear and gardening or builders gloves CLICK HERE TO BOOK ONLINE or see details at top of page